MAILING LIST
Stay up to date and Get a free song download!
LATEST NEWS
October 24th, 2013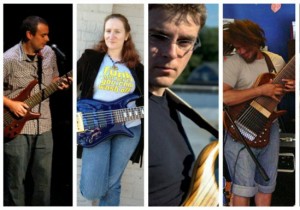 TWO DAYS OF BASS! – November 2nd and November 3rd!
Solo bassist Brittany Frompovich has organized some great shows the weekend of Nov 2-3. On saturday she will be hosting some music in fredericksburg at at Forte Music Studios and will feature Darren Michaels, Scott Fernandez, Ben Titus and Brittany Frompovich. Then on Sunday there will be two shows the first one will be at the Loft art gallery in Culpepper VA and will feature  Ben Titus (Milwaulkee, WI), Brittany Frompovich (Fredericksburg, VA), myself and possibly some surprise artists.Then that evening we'll be bringing the show to the 909 Saloon in Fredericksburg. This is going to be an awesome weekend of Bass guitar played by some fantastic bassists. I'm looking forward to being a part of it!! For more info make sure you check out www.ladybassmusic.net.